Outhouse based in Gloucestershire and designed by Loyn +Co was on the shortlist of 6 for the prestigious 2016 RIBA Stirling Prize for the UK's best new building, and won the 'BBC Public Vote' for over 36,000 votes cast. The RIBA Stirling Prize, architecture's highest accolade, was awarded to the Newport Street Gallery designed by Caruso St John on Thursday 6th October 2016.
The RIBA Stirling Prize is judged against a range of criteria including design vision; innovation and originality; capacity to stimulate, engage and delight occupants and visitors; accessibility and sustainability; how fit the building is for its purpose and the level of client satisfaction.
Outhouse, Gloucestershire
Outhouse is located on a fabulous sloping plot in the Forest of Dean running beside Offa's Dyke, with long views to the Wye Valley and Severn Estuary. The design exploits the site potential to the full with a discreet design that beds into the site literally and metaphorically, finely balancing respect to context with confident architectural expression.
The simplicity of the house, which was undoubtedly hard-won, is founded on rigour and restraint. This is a house with a field on top – not an 'architectural' green roof but a proper field, punctured with light wells that creatures are having to learn to avoid. It is a concrete house where the concrete feels warm and luxurious and a considered and crafted palette of surfaces form a backdrop for the artist-owners' own refined art and furniture.
The design eloquently and effortlessly tackles many familiar issues; the blurred relationship between interior and exterior space, the penetration of light into a deep single aspect plan, the control of sustainability without flaunting it.
The key architectural device is a rigorous plan organisation separating studio and working spaces on the uphill side and glass fronted living spaces on the downhill side to take advantage of spectacular views. The building's backbone is a linear circulation space driven through the plan perpendicular to the site slope, with the front door at one end and Wales at the other. The entrance is a modernist set-piece with a covered approach flanked by a black pigmented concrete pavilion and a simple solid open stair running through a rectangular puncture in the roof plane. Channelled views through the glass door reveal the spine, active as a gallery space opens to and illuminated by the living space on the downslope side. Fleeting glimpses of the retired owner's traversing the house on micro-scooters confirmed the very definite feeling that we wanted to enter.
To misquote Renee Zellweger in Jerry Maguire: 'they had us at 'Hello''.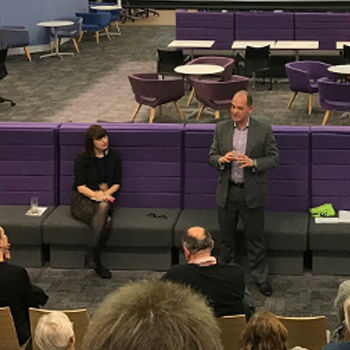 Previous Project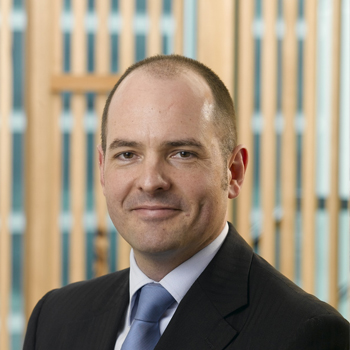 Next Project